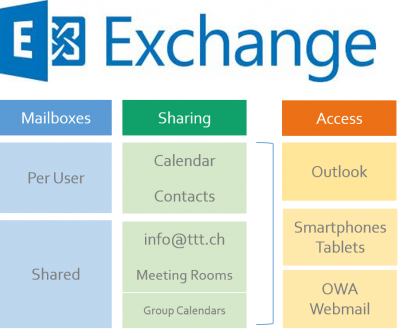 MS Exchange
Enjoy the full functionality of Exchange Server & mail server regardless of the size and resources of your business. Shares mailboxes, contacts and calendars, Meeting room Management, access to emails and calendars in real time on your computers, phones and tablets, Webmail .. are accessible for any budget. Deployment or migration, regardless of the scenario, 3T assists in its implementation:
On site: Installation & deployment directly to your servers
Private cloud: your mail servers stored on our data centers, located in Switzerland.
Swiss Cloud: With Swisscom Hosted Exchange
Cloud high capacity: Exchange Online Office 365
Hybrid environment: With some of the mailboxes on-site (eg. management or sensitive services) and other users on the Cloud
Antispam solutions
Providing server and gateway antispam solutions is now vital, to protect and secure your systems. As 90% of emails exchanged worldwide are spam. (Source ATS). There are 2 complementary antispam scenarios:
On Site: Cisco IronPort
On the Cloud: Proofpoint Essentials
These two solutions are leaders by Gartner Magic Quadrant (Antispam Security).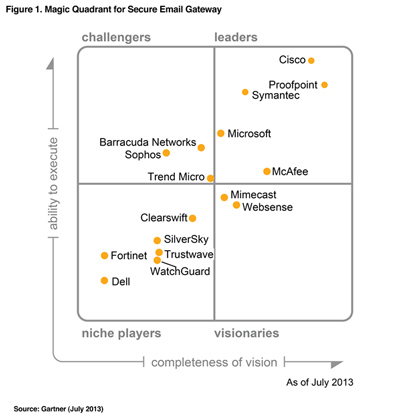 This post is also available in: French