Recently available, updated Spring 2014, Microsoft Dynamics CRM provides many new features with the main objective to make your CRM as flexible as possible through an Online platform.
Main new features :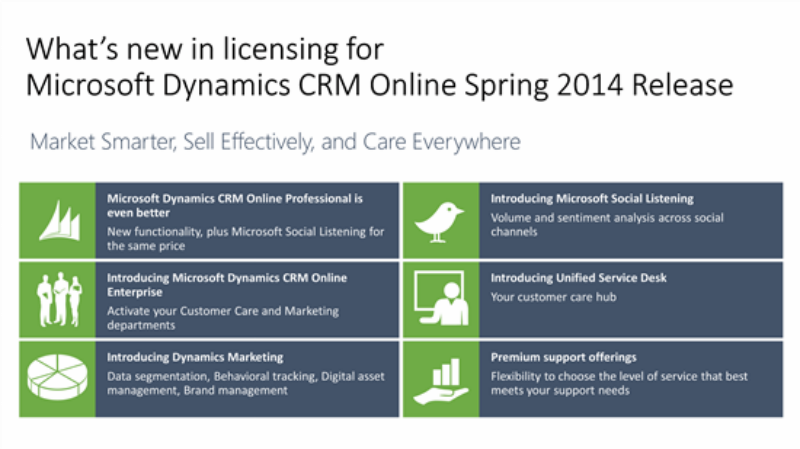 This tool allows you to monitor and control the web and social networks. So, you know what people are saying about your company and your products. You can follow any social network's feelings shared, identify opinion leaders, watch the latest news and trends about the points of view of competition, and much more.
After launching your marketing campaign, follow the reactions on blogs, Facebook, Twitter and adjust your campaign if necessary.
A comprehensive module for the management of marketing campaigns is now available. Microsoft Dynamics enables Marketing and sales managers to plan, execute and measure campaigns.
Additional features of marketing automation: Microsoft Dynamics Marketing provides ideas to help marketing managers to be more impactful and effective with new features.
Microsoft has recently acquired the company Parature,specializing in cloud-based customer support (SaaS). This innovative tool for managing customer interactions in self-service mode, will increase the availability of Dynamics CRM for customer service.
In addition, Dynamics CRM includes a new "Unified Service Desk" module designed to best facilitate the work of call centers. For further information, do not hesitate to contact our Dynamics CRM team
This post is also available in: French